Believe it or not I AM still reading comic books. Since Craig & I only have one car between the two of us at the moment I ride the bus from time to time. (And even if we did have two cars, parking in downtown Milwaukee is much more expensive than bus tickets, so I'd probably still ride most of the time.) Often Craig will drop me off at the bank in the morning and then I'll ride the bus home in the evening while he's working at the store. Bus time is a great time to read comic books!
I decided that it would be a good idea to do some quick reviews of the comics I read each week. Now I am usually a week or two behind, since I've been behind from working at the store anyway. I'll use the good old school method A - F with A being excellent and F being a failure in my book.
Ghost Whisperer #1
Published by IDW, story by Becca Smith & Carrie Smith, based on the TV series created by John Gray with art by Elena Casagrande & colors by Matteo Gherardi, letters by Chris Mowry, edited by Tom Waltz.
I don't usually watch the TV show, even though the premise sounds like something I'd like. There are just too many shows I'm already watching. The comic book was OK. It wasn't something I'd recommend to everyone I meet, but I wouldn't toss it into the trash. The story was fun and I liked how the main story ended with the issue, but a new mystery revealed itself right at the end giving me a reason to read the next issue. The writing was simple and the book read fast. The art was also simple, sometimes so simple that I couldn't keep track of who was who. But it wasn't ugly, so that's good. The cover price of $3.99 is too high. Overall I'd give this a C.
Northlanders #4
Published by DC/Vertigo, story by Brian Wood, art by Davide Gianfelice, colors by Dave McCaig, Letters by Travis Lanham and edited by Will Dennis.
This is the half-way point for the Sven the Returned story. It also felt like the story is starting to come together, to turn a bit as we move toward the end. The series is interesting - it would be a good movie if the right person did it. If you are not reading this in single issues, I'd recommend checking it out in graphic novel when it comes out - I think it's really the kind of story that's read best as one solid story not split into issues. $2.99 is a good/average price for this comic book. A- because it's hard to read as an issue, but the overall story & art are good.
Zorro #1
Published by Dynamite Entertainment, story by Matt Wagner, art by Francesco Francavilla and colors by Adriano Lucas, lettered by Simon Bowland.
If you were ever a fan of the TV series or movies, or even just the Zorro mythos, I think you will enjoy this comic book. This issue sets us up with the background of Zorro as a boy - his family and beliefs and how he became Zorro. I liked the writing and the pace of the issue and I'm looking forward to the next issue. Hopefully they mix in more action with the character building in the next issue. The art seemed like it was good, but washed out quite a bit by the colors. I would have to see the penciled pages to really say that for sure, but it's what it looked like to me. Personally I'd like to see the cover price a bit lower than $3.50, but that's not a horrible price. I'm giving this issue a B.
Green Arrow & Black Canary #6
Published by DC Comics, written by Judd Winick, art by Cliff Chiang and colors by David Baron, Lettered by Tr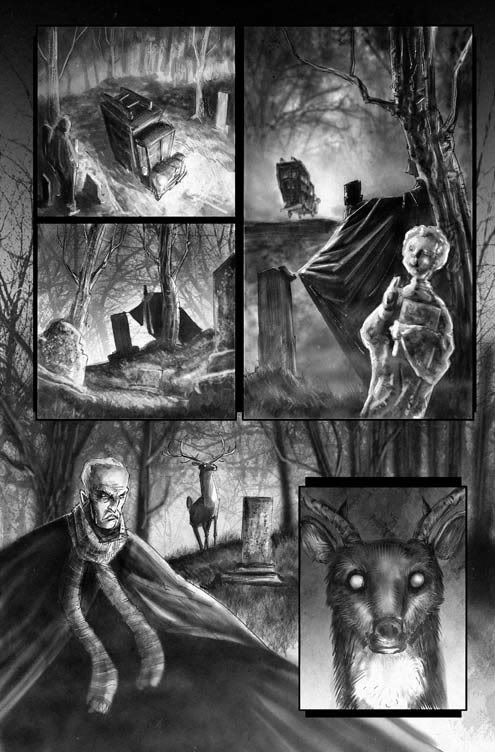 avis Lanham and edited by Mike Carlin.
Great action in this issue, with not quite so much pining over Connor as we've seen in the previous issues. The couple actually got to spend some time working together - which is what I've been waiting for. They are still working to find out what happened to Connor, and GA clearly has Connor on his mind - I thought this was a great issue. Fun twist at the end! The art was good. $2.99 is an average/fair price. This one gets an A.
Cemetery Blues #2
Published by Image Comics, story by Ryan Rubio & Thomas Boatwright, art by Thomas Boatwright, lettered by Jason Hanley, edited by Kristen Simon.
Seriously, if you are looking for a fun comic book with great art, give this a try. It's fun and lighthearted with clever humor - but it doesn't pander, talk down or rush things. The comic is black and white, but with great shading that should make it acceptable to those that prefer color comics. In this issue we get to see some people get killed by a a really mean ghost that looks like a large deer. The clever ghost hunters do what they do best when faced with certain death - RUN. We get to find out a bit more about this mysterious ghost in the woods as we laugh at the adventures of Falstaff & Mort. $3.50 price is higher than I like, but the quality makes up for it. I give this an A.
DC Special Raven #1
Published by DC Comics, written by Marv Wolfman, art by Damion Scott and colors by Sigmund Torre, Lettered by John J. Hill and edited by Eddie Berganza.
This was my least favorite comic of my reads for the week. The manga art style might have worked better if it wasn't colored because the colors just made it too blocky & weird for me. The story also felt like it jumped around too much and I was confused - I shouldn't be confused by a comic book. I had high hopes for this and I was, unfortunately, disappointed. Raven always seemed like a really cool character to me, and I don't mind seeing her as a teen girl in high school, but this issue wasn't very good. I will check out the next issue to see if it's any better, and if it's not then I won't read the other 3 issues in the mini-series. $2.99 would be an OK price if the comic was better. I give this a D-.
What did you read this week?